County Garage Conversions Ltd 2006-2014 © All Rights Reserved.

County Garage Conversions In Surrey - the economical way to add an extra room to your property, and increase the value of your home
Berkshire Clients: 01189 311193
Hampshire Clients: 01256 276014
Surrey & London Clients: 01252 245014
Wiltshire Clients: 01793 213016

Get A Quote Discover 5 must-do things when considering a garage conversion with this free guide from a garage conversion expert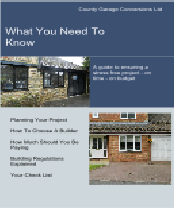 Claim Your FREE Guide Today
"With 8 Years Of Garage Conversion Experience In The Surrey And Reading Area And 327 Garages Successfully Converted, You Can Rest Assured That You'll Get Exactly What You Ask For - and a whole lot more -

It's Our Promise…"


Contact Us Now For A FREE No-Obligation Fixed Quote

You have probably already decided that by converting your garage you can gain a considerable amount of new living, entertaining or home study space. What's important to you now is finding the right company to help you.
Here's what we offer…
• Fixed price - you know exactly what you will paying for
• Free planning Drawings when required
• A detailed scope of works - so you know EXACTLY what's included
• A contract agreement - protects you and your home
• Guaranteed sign off by your Local Building Inspector
• High quality of work - ask and see our past Clients conversions
• Always on-site - we stay until we complete your conversion
• No unnecessary deposits - pay in full once you're happy with it
• Create your own style - we offer expert advice
• Stay in control - you make the decisions
• Receive excellent service - something you deserve
"We're so confident that you'll be delighted with your new garage conversion that we're prepared to take NO DEPOSIT and offer you the following no quibble guarantee:
Let us convert your garage into a room of your choice and if you're not 100% happy with it we'll put things right, offer a letter of apology and we'll give you £100 for your troubles"